2016年 08月 22日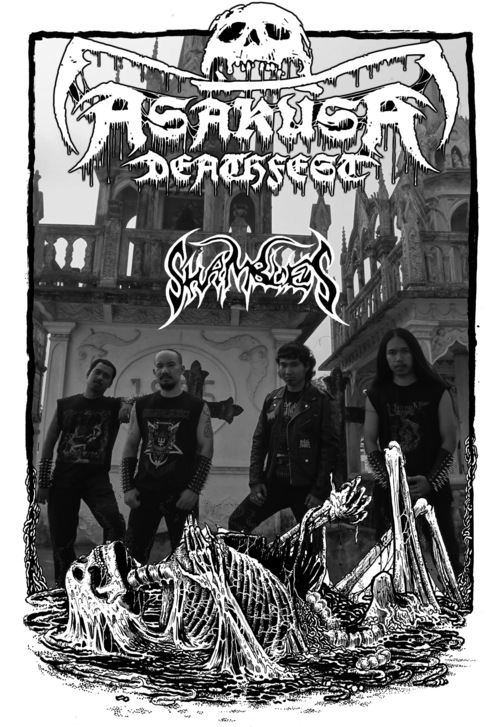 SHAMBLES x Asakusa Deathfest 2016
秘儀に満ちた異教の祭壇
世界各地で活気溢れるリバイバルシーンにおいて、2013年のSHAMBLES再結成はそれ自体が特に目新しい出来事ではなかったが、南国のバンドとは思えない、その陰のある荘厳な雰囲気で型取られた新たなサウンドの方向性が意表を突き、驚きと賛辞をもってシーンに受け入れられることとなった。
INCANTATIONをほのかに感じさせるミッドテンポのトレモロリフが生々しいノイズに包まれる。
より儀式的なアプローチをデスメタルに取り入れた点では、近年注目を浴びている
GRAVE MIASMAやIRKALLIAN ORACLEなどのヨーロピアンサークルに親和性があるのかもしれない。
SHAMBLESは現在精力的にスプリットやEPをリリース、並行して本国タイやシンガポールでのライブ活動を行っており、今年は初のフルアルバムがリリースされた。
今正に旬なバンドと言えよう。 重低音から甦る悪夢を体感せよ!
Esoteric rituals performed by the chosen few.
In this current stream of revival, SHAMBLES' 2013 resurrection was only natural, except that you couldn't have guessed this classy approach to the immensely dark and occult rituals was hailing from a country famous for natural gems and tropical fruits.
What you could have guessed though is that their mid-paced smooth rides have definitely something to do with what inspired the current scene of INCANTATION follower bands, though this has evolved into yet darker, gloomier stream of raw noise.
Their sound might as well cater to the fans of GRAVE MIASMA and IRKALLIAN ORACLE and those of underworld occult European circle.
They have performed in and outside of their native Thailand and have been actively releasing splits and EP. This year their first full-length has finally come out!
Through music, you experience the daemons. The ritual will leave you shivering with deadly horror!
Facebook
https://www.facebook.com/Shambles-635468059850975/

Sound
https://shamblesdeath.bandcamp.com/